Railroad and Passenger Railway Tools And Wire Connection Products
Nicopress® splicing sleeves, terminations, and catenary cable products and tools help freight and passenger railroad operators improve signaling system and overhead wire reliability and security.
Create More Confidence in Every Mile of Track
Detecting trouble on the tracks is critical, especially where rail lines cross the most remote locations. That's why Nicopress® sleeves and Nicopress® tools are designed to connect railroad and passenger rail operators to stronger signaling system solutions and catenary cable splicing and termination products.
We built our business on a century of engineering and manufacturing excellence to bring you optimized swage compression technology. Every day, we help railroads deliver on their promises by connecting them to trusted railway tools and products and the people who know what it takes to keep freight and passenger trains rolling along safely and on schedule.
Here are just a few reasons our name is recognized for consistency, reliability, and security:
Nicopress splice strength equals the rated breaking strength (RBS) of the wire itself
Our complete system creates repeatable, high-integrity splices that last in harsh conditions
Nicopress® products are installed in all major U.S. railway networks
We possess over 80 years of rail and light rail expertise and deep industry relationships
---
Common Railway Applications
Nicopress is among the most specified names for Class I, short line, light rail, and high-speed rail line applications, including:
Signal/Crossing gate activation
Track connector bonds
Catenary dead-ends and splices
Overhead electrical lines
Security fence wire
Rockslide fences/sensors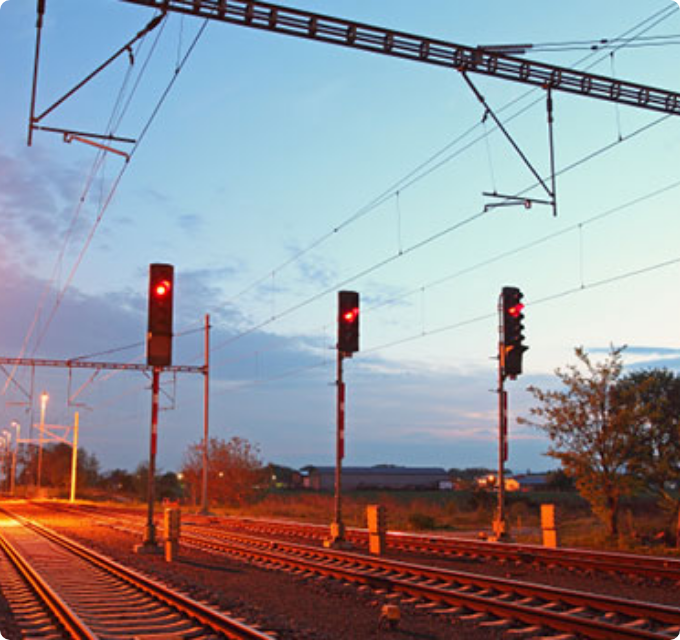 Products for Railroads
Locate a Nicopress® distributor
We offer a wide selection of compression products from signal wire sleeves to terminations to catenary cable solutions, including clamps and joints. Our connectors and tools are tested together to work seamlessly together, making Nicopress the best source for all your signaling system and overhead electrical wire splicing needs.

How We Help Railroads And Passenger Railways
We think you will agree that nothing equals Nicopress from proven products to helpful services to reliable after-sales support. Here are more ways we bring value to customers every day:
Design Assistance
At Nicopress, engineering is at the core of our culture. We hold high expectations and deploy reliable resources that can make your job simpler. Ask us about custom-engineered solutions for signaling systems and catenary cable splicing and termination. We constantly evaluate new applications so you can solve challenges without slowing down.
Logistics Efficiency
Domestic product with full traceability is part of the advantage we provide. Discover why Nicopress is the "genuine article" according to customers wanting authentic solutions. Our team is adaptable to meet the needs, even when they change unexpectedly. We are deeply immersed in supply chain relationships with a large, domestic footprint, and we are committed to employing our perfected processes, tools and development methods to reduce your project costs and help ensure product delivery.
Easy Accessibility
There are few simple fixes for railroad maintenance teams. That's why collaboration is key to achieving your goals. Nicopress® sleeves and tools are backed by the savviest, most skilled and most supportive staff you will find. Stay in touch with the original swage compression technology experts.
Additional Resources
There's even more for railroad and passenger rail operators to learn about optimized swage compression technology for signaling systems and catenary cable.