Medical Cable Assemblies & Tools
As a worldwide leader in compression sleeves and tools, Nicopress brings custom compression sleeve solutions to medical wire and thread joining & termination applications required in medical device assemblies and surgical products. Using Nicopress medical compression sleeve technology, we meet the tensile and/or electro-mechanical challenges required by medical OEMs.
Why Use Nicopress For Medical Device Cable Assemblies?
Nicopress, trusted for more than 100 years, has provided innovative connections of fine wire and thread, wire and synthetic ropes, and, electrical conductor wires and cables. We have the ability to design, engineer, and test a wide range of secure, repeatable and dependable connection solutions requiring precise dimensional sizes and tolerances with material and environmental requirements. Our advanced material science and engineering expertise enables us to manufacture end terminations, connectors, and tools ranging from delicate miniature cable diameters of 0.08mm (0.003") up to 20mm (0.75") for large cables depending upon your design requirements.
Our medical compression sleeve solutions for precision wire, medical braids, and stranded cables grip wire are made of materials such as: stainless steel, PTFE coated wire, titanium, nitinol, inconel, MP35N, and, high-performance synthetics such as: LCP (Vectran), Dyneema (Spectra), Aramids (Kevlar and Technora), polyesters, and polypropylenes. Common applications may include terminations and connectors for:
Angioplasty guidewires
Deflectable & steerable catheters
Electrodes
Surgical leads
Medical equipment assemblies requiring mechanical cable actuation to motor servos and/or electrical connectors
Benefits of a Nicopress Medical Compression Sleeve
Medical equipment manufacturers and their customers have found that some wire and thread materials tend to fracture and fatigue, which is why they are preferring and specifying higher modulus and tenacity materials. Also, stretch and creep are not tolerated in most applications and abrasion resistance is preferred when in contact with metals. These higher strength wire and thread materials present greater challenges to terminating and gripping them, which is where Nicopress can help.
In addition, greater miniaturization is occurring in the industry such as nano-technology and micro-electro-mechanical systems (MEMS) requiring wire and thread cables for actuation. Also, some new developments in implantable electronic devices and robotic assistance applications have new challenging requirements for gripping and connecting wires and threads. Nicopress compression technology can serve these needs.
Learn more about our customized solutions for medical device cable assemblies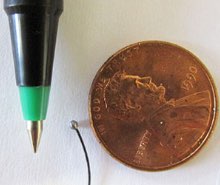 Please contact Nicopress using the form to discuss your needs.