Medical Specialized Wire Connectors and Micro-wire Connection Systems
As a worldwide leader, Nicopress specializes in custom, precision wire, and cable connection systems for medical device and surgical product applications. Using Nicopress technology, we meet the challenges of compression sleeves used to terminate or connect wires and fiber with tensile or electro-mechanical requirements in medical device applications. We have the ability to design, engineer and test a wide range of secure, repeatable and dependable connection solutions requiring precise tolerances. With our advanced material science and engineering expertise, we manufacture end terminations and connectors for delicate miniature cable diameters ranging from .006" up to .500," depending upon your design requirements. Our compression solutions for precision wire, medical braids, and stranded cable range from .08mm to 5.0mm (.003" to .188"). Nicopress sleeves grip wire materials including stainless steel, PTFE coated wire, titanium, nitinol, inconel, and high-performance synthetics such as Vectran, Spectra, and Techonora.
We offer a full line of high-quality, easy-to-use Nicopress products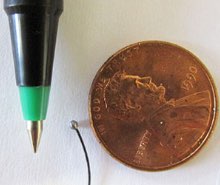 Please contact Nicopress using the form to discuss your needs.