Wire Rope Splicing and Terminating Products
Nicopress® has designed and manufactured a wide range of tools, connections and terminating solutions for applications in wire, fiber and synthetic rope for global customers. A perfectly integrated system, Nicopress® tools and sleeves have been specifically engineered, laboratory- and field-tested for dependability and longevity. Sleeves are available in aluminum, copper, tin plated copper, zinc plated copper, black-oxide coated copper, stainless steel and titanium. Traditional sleeve sizes range from 1/32" (1mm) to 5/8" (16mm). Micro sleeve sizes also are available from 0.008" (0.20mm) to 3/64" (1.2mm) as well as stop and custom sleeves.
110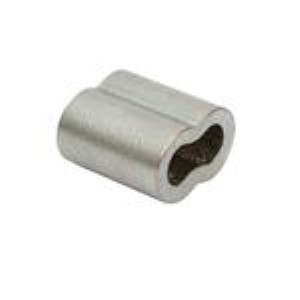 Oval Sleeves
Oval sleeves are efficient terminating products and when properly applied provide a secure connection.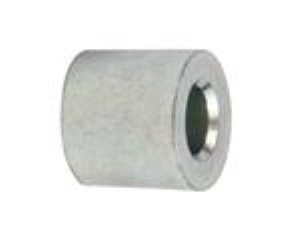 Stop Sleeves
Stop sleeves are utilized on wire rope to terminate in partial-tension applications.
Nicopress manufactures the most reliable swaged connections. Nicopress connectors, terminations and tools are designed, tested and proven to work better together—a complete system for securing your confidence.
What are the Different Types of Wire Rope Compression Sleeves?

Wire rope compression sleeves are broken down into two major categories: oval sleeves and stop sleeves. Oval sleeves have an hourglass shape and provide a secure connection equal to the rated breaking strength of the wire rope. Stop sleeves are more like bolts and are typically used in end-termination.
Oval Sleeve Features

At Nicopress, oval sleeves are designed to secure the end of the wire rope into a loop. Our oval sleeves are made in a variety of materials including copper, aluminum, stainless steel, and more. We've highlighted some features of oval sleeves below:

Used for lighter-duty applications
Stronger than stop sleeves
Used to bind together an eye in a wire rope
Stop Sleeve Features

Stop sleeves are circular and typically placed at the end of a wire rope. The stop sleeve creates termination in partial-tension applications and keeps the end of the rope from slipping through holes in other materials. This is a simple way to attach fittings to the cable without making a loop or eye in the line. We've highlighted some features of stop sleeves below:

Prevent fraying
Good alternative to thimbles and wire clips
Simple way to swage a cord