Gas Utility Tools And Connections
Nicopress® tracer wire taps, splicing sleeves, reducing sleeves, mastic, kits and hand tools are part of a complete system enabling reliable detection of gas line tracer locating wire.
A Total Solution for Tracer Wire Detection
Find what you need to make permanent underground connections, all under one roof. Using Nicopress® sleeves and Nicopress® tools, gas utilities can detect the exact location of buried tracer wire more reliably and consistently. A strong, lasting connection also helps to avoid the cost and complication of repairing failed locator wire.
Tracer wire detection is dependent upon connectors that are precisely engineered. We make the task of locating cable easier. With Nicopress, you get gas utility connections offering superior conductivity and strength that can outlast your gas line installations.
Optimized swage compression technology is the reason our products are trusted by major gas utilities and electrical product distributors for highly dependable tracer wire connections. Before you dig, be sure to specify the Nicopress® system—designed to work better together.
Nicopress splice strength equals the rated breaking strength (RBS) of the wire itself
Our complete gas utility system creates repeatable splices that outlast other connection systems
Gas line workers love our lightweight, easy-to-use tools that don't mind a hard day's work
Reduce the risk of wire that can't be located with a company with 70-plus years of experience
---
Common Gas Utility Applications
Swage compression sleeves and tools from Nicopress have been used by gas utilities and electrical product distributors for decades for:
Locating tracer wire
Detecting underground gas & water pipes and fiber optic cable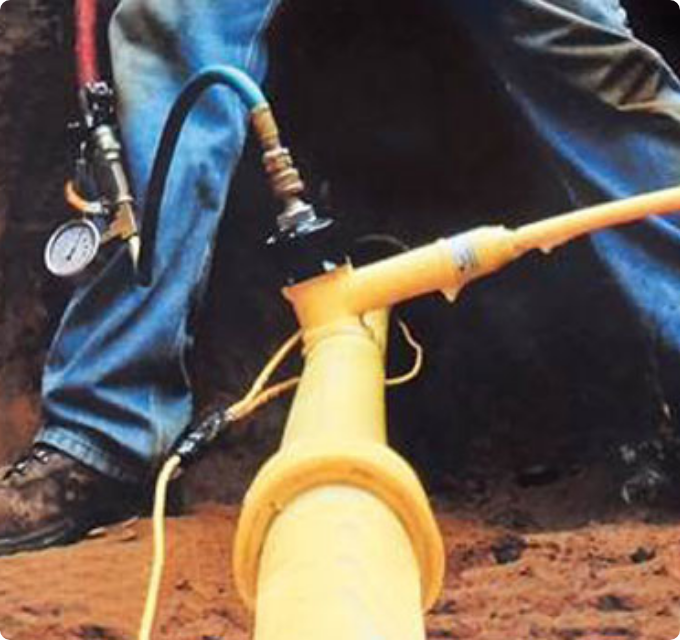 Products for Gas Utilities
Locate a Nicopress® distributor
Buried tracer wire is often secured by twisting wires together or by inserting wire into a connector compressed by a screw. These methods can be unreliable over time, such as a screw backing out and causing loss of connectivity. Our complete system matches Nicopress® sleeves to Nicopress® tools to create strong and permanent compression connections for both solid copper and copper-clad steel tracer wire from #6 AWG through #14 AWG.

How We Help Gas Utilities And Electrical Product Distributors
We think you will agree that nothing equals Nicopress from proven gas utility products to helpful services and reliable after-sales support. Here are more ways we bring value to customers every day:
Proven Performance
Typical gas line installations are expected to last up to 50 years. We engineer confidence in durable tracer wire and locating wire/locator wire connections. When you choose a system designed to prevent mismatched products and missing items that is easy to verify in the field, you reduce the risk of costly dig-ins and undetectable wire. We know the time crews can spend in the trench—it's why we invest ours in engineering and testing to ensure they won't be going back anytime soon.
Design Assistance
We are swage compression specialists that can engage your project directly with a standard solution or custom-engineered solutions. Suppliers can sometimes overlook the small things when assessing specific needs for gas line infrastructure—we'll help you think through every consideration because your tracer wire system is only as good as its weakest connection.
Logistics Efficiency
With our deeply rooted supply chain relationships and large, domestic footprint, you can be confident in our products. Our system is built on a foundation of perfected processes, rapid response times, and development methods that reduce your project costs while helping to ensure product delivery.
Additional Gas Utility Resources
There's more to learn about optimized swage compression technology for tracer wire and related gas utility installations.