Electric Utility Solutions
Nicopress® splicing sleeves, terminations, cable rings, and tools for power line cable and electrical conductors help electric utilities and electrical product distributors operate safely, reliably and consistently. The easy-to-use Nicopress system of electrical conductor connectors and electric utility tools provides superior connections that meet or exceed industry standards.
Connect to Optimized Swage Compression Technology
With thousands of miles of transmission and distribution line spanning the most remote locations—as capacity increases and services expand—you need confidence in secure connections. For over a century, Nicopress has helped power companies and electrical product distributors deliver energy safely and dependably every mile of the way using optimized swage compression technology.
We know how to keep the lights on, from securing power line cables and electrical conductors to making ground connections. As a partner to cooperatives, rural providers and municipal- and investor-owned utilities, we provide security that lasts.
With so much hanging in the balance, you need the highest assurance in continuity of service to your customers. Nicopress® sleeves and Nicopress® tools offer you a complete system to make reliable connections more consistently.
Nicopress splice strength equals the rated breaking strength (RBS) of the wire itself
Our complete system creates repeatable splices that stand up to harsh conditions
We can improve your resilience strategy for extreme weather events with fast turnaround
We also provide direct support for grid hardening initiatives for reinforcing and replacing lines
---
Common Applications
Every day, millions of Nicopress® connections deliver perfect service and added peace of mind for electric utilities and electrical product distributors that support critical infrastructure, including:
Aerial distribution support systems
Cable runs
Electrical conductors
Electrical constructs of all types
Ground connections
Power line cable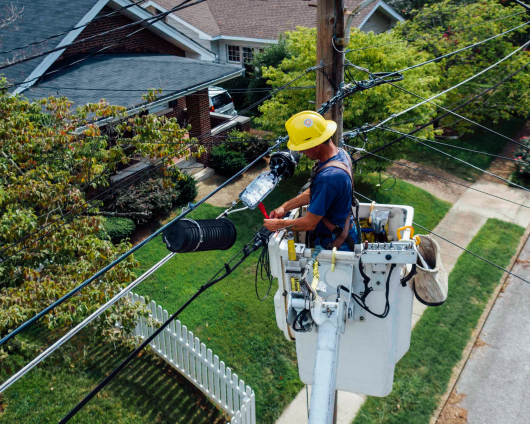 Products for Electric Utilities
Locate a Nicopress® distributor
Our products are designed to earn line workers' respect. When a major electric utility wanted the best option over the best price, it chose Nicopress® sleeves and Nicopress® tools for a better combination of performance and value. Find products in many materials and sizes that are compatible with a wide array of conductors including copper, copper-covered steel, Copperweld® copper, galvanized steel, ACSR, AAC, AAAC and Amerductor.

How We Help Electric Utilities and Electrical Product Distributors
We think you will agree that nothing equals Nicopress from proven products to helpful services to reliable after-sales support. Here are more ways we bring value to customers every day:
Design Assistance
Pros know—if the line person doesn't like it, it will never work. Together, we can design and build products tried, tested and approved for service from the ground up. From initial concept to final signoff, we offer design assistance, analysis and execution—everything you need to develop a winning solution. Ask us about custom-engineered solutions.
Logistics Efficiency
There is confidence in knowing the product you need is right around the corner. With deep-rooted supply chain relationships and a large domestic footprint, we are built for rapid response, having perfected the processes, tools and development methods that reduce your project costs and help ensure product delivery even when your needs change quickly.
Storm Outage Response
We never leave our customers in the dark. When storms threaten or the unexpected occurs, we're by your side with critical support and trucks ready to roll day or night. With strategically placed inventory in major markets, we'll help you restore power from the minute the call goes out. Stay in touch with the experts who understand your unique challenges.
Additional Electric Utility Resources
There's even more to learn about optimized swage compression technology for electric utilities and electrical product distributors.